hot wire cnc foam cutting machine supplier in China
Buyer with our machine start from nothing and works for cutting eps moldings,they have options of too many suppliers from China and the whole world,they may think like this procedure as blow:

Q:i want to supply eps moldings for the building contractors,they give me the size and i make drawing and cut to supply them.which type of machine i need to do the work?
A:It depends on the moldings type you want. You want to cut 2D moldings or 3D decorations. 2D architectural moldings need the multiwire CNC machine to work for bulk qty. 3D decorations need single wire CNC machine.
Q:Which supply in China is reliable? I found too many suppliers on line.
A:We have history of supplying the cnc foam cutting machine,our clients feedback positive.We have cheap machine with single function and expensive machine for heavy duty work.all for your finance.
Q:i may need light duty machine,or,i may need heavy duty machine,i want to see and make comparison of them,how can i do it?
A:We have the catalogue of the heavy and light duty machines,welcome to come and see.
Q:any warranty of CNC hot wire cutter?
A:Yes.We supply free parts during warranty.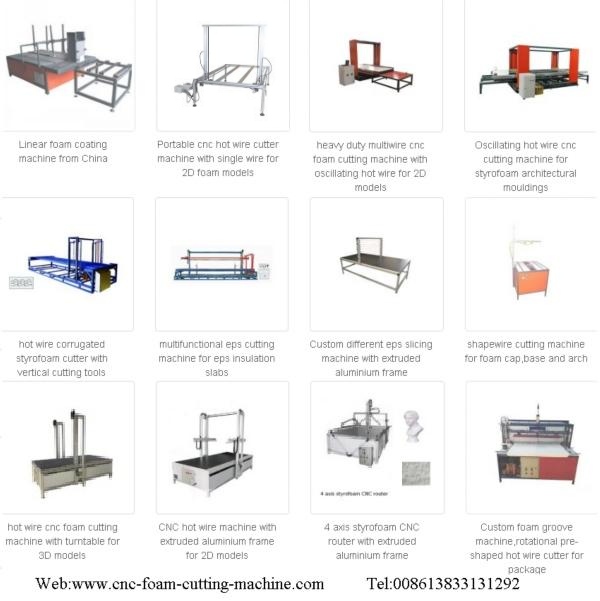 Q:How is quality of the cnc foam cutting machines?
A:it is good quality,all motion parts are good and the ball screw motion and belt motion are available.
Q: i may need cut different shapes in future,can you do it ?
A: we have more machines in our catalogue,like hot wire or shapewire machine,welcome to inquire from us .
A:our cutter machine support Devfoam,AutoCAD,Colredrawl,arduino,mach,CNCUSB etc software which are popularly known in the line.
Q:why decide on cnc-foam-cutting-machine.com ?
A: because they are not only selling machines,but also offer solutions on hot wire thermal cutting and cnc carving.