Gallery of hot wire cnc cutters from China
As our professional dedication in the polystyrene cutting line,we are developing some models of hot wire cnc cutters which are aiming to be some solutions for buyers,cause buyers need different hot wire cnc cutter,their work in reality need cut different shapes,like round,square,oval,triangle etc,these shapes are simple,there are difficult shape like tapered shape,which is square at one end,and round at the other end.So,buyer need the hot wire motions at many different directions.
For example, 4D hot wire cnc cutter with turntable,we design the wire motion on the 4 axis basis,the wire end can move at their direction oppositely,either horizontally or vertically,but it is not enough in work requirement,so,we add one more axe as turntable which take the polystyrene foam,we make the polystyrene foam motion too at same time as the wire motions.It can get 4D models of round shape.
We list the hot wire cnc cutter below,they can cut polystyrene into different models like block,2D,3D and 4D etc.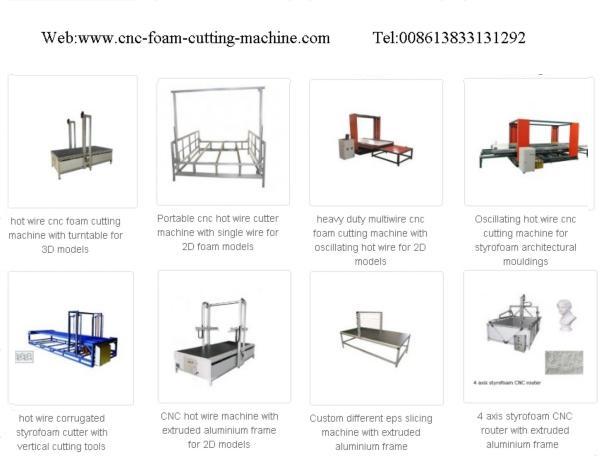 After the cutting shapes,let us talk about capacity,we have multiwire cutter and single wire cutter,their capacity is different.For example,polystyrene shop and factory have totally different sales volume,they will need different machines.You can have your machine based on your capacity.
And we have machine frame of different materials,there are aluminium alloy and square metal materials.Of course,their application is different in some aspects.For 6m length cutting application,you need strong frame of square metal,cause it is big size,wire tools and machine frame need to be strong.For 2m to 4m length cutting application,aluminium alloy frame is good options,cause it is light,less energy consuming and easy to move.
It is worth to mention that some models of our hot wire cnc cutter have unique design,we have application in cutting some hard to cut materials,like thermosetting polystyrene materials which is to be called propor in China.It need the hot wires oscillating to get better cutting performance.
Anyway,we care your demand,we can give you machine solutions after you inform us your exact requirement.Our engineers are good enough to turn your ideas into real machine.